86 REASONS TO SHOUT!
The Third Poland Sacred Harp Singing Convention will be held in Centrum Prasowe Foksal 3/5 in Warsaw on Saturday the 27th and Sunday the 28th of September 2014. We will sing from the 1991 Denson revision, from 10 am till 4 pm on both days (registration opens at 9.30 am).
Dinner on the grounds and social included 🙂
Saturday night social will be held in Warsztat, Plac Konstytucji 4, 6 pm-10 pm.
Like maps? See some here.
The Convention is free of charge and open to all. No experience is needed, and all are welcome at any point throughout the day.
JOIN IN AND HELP US TO SING!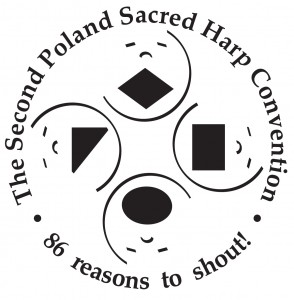 For further information, please contact:
General inquires:
Jacek Borkowicz & Gosia Perycz at sacredharp86(at)gmail.com
Housing coordination and transportation hints: Justyna Orlikowska at sacredharp86(at)gmail.com
We will do our best to accommodate as many of you as we can in our homes.
Also, we will help you with other accommodation options such as hotels or hostels.
If you already know you would like to come, please let us know and we'll try to find
you a place to stay that would meet your needs best.