86 REASONS TO SHOUT!
The Second Poland Sacred Harp Singing Convention will be held in Warsaw, at the Geography Faculty of Warsaw University (30 Krakowskie Przedmieście street) on Saturday the 21st and Sunday the 22nd of September 2013. We will sing from the 1991 Denson revision, from 9.30am till 3.30pm on both days.
The Faculty of Geography of Warsaw University is situated in the beautiful Old Town area of Warsaw, 10 minutes walk from the Royal Castle.
Both days will feature the unique Polish style dinner on the grounds.
We also invite you to a Polish style social on Saturday evening.
The Convention is free of charge and open to all. No experience is needed,
and all are welcome at any point throughout the day.
More information on getting to our singing can be found here.
The Convention will be preceded by the Shenandoah Harmony workshop on Friday evening (20th of September). Starts from 6pm till 8.30pm – also at the Geography Faculty of Warsaw University. Our guests will be John W. del Re, Kelly Macklin, Leyland W. del Re and Daniel L. Hunter who are the editors of this new wonderful compilation.
If you would like to have your own Shenandoah Harmony you can pre-order a book here.
If you will stay with us till Monday after convention we can organize a Warsaw sightseeing tour.
We are honored and happy to invite you to come to Poland right after the UK Convention to participate in the Second Poland Sacred Harp Convention!
We are so glad that we can invite you all to Poland for the second time!
We have been blessed to sing with many of you in so many beautiful places that we can't wait to host you in Poland now. And if we have never sung with you before – we cannot wait to do it!
Our first convention was unforgettable and beautiful. Moving and wonderful in many ways, via significant moments and meetings with friends. We definitely want to feel it again! We need you. So…
JOIN IN AND HELP US TO SING!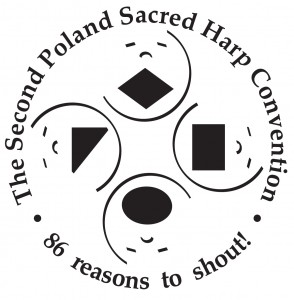 For further information, please contact:
General inquires:
Justyna Orlikowska & Kama Dembińska at sacredharp86(at)gmail.com
We will do our best to accommodate as many of you as we can in our houses.
Also, we will help you with other accommodation options such as hotels or hostels.
If you already know you would like to come, please let us know and we'll try to find
you a place to stay that would meet your needs best.
We are looking forward to singing with you, feeding you, hosting you!
Please visit us!